Calev M. Myers | partner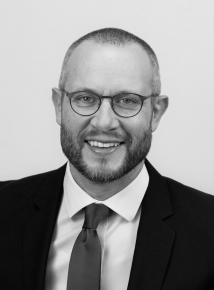 As Founding Partner of the City Center Branch of Yehuda Raveh & Co., Calev's practice focuses on corporate and intellectual property law, as well as non-profit law, immigration law and civil rights.
Calev serves as general counsel to over 100 non-profit organizations in Israel, focusing on education, humanitarian needs, social justice and civil rights, and provides ongoing representation to significant high-tech, telecommunications and media companies. He has been published in the International Financial Law Review and he currently represents many foreign clients and international entities which invest in various ventures in Israel.
Calev joined the firm as an intern in the Corporate and Intellectual Property Department in 2001. In 2004, he became a partner and in 2009 Calev established and opened the City Center Branch of Yehuda Raveh & Co. Law Offices, where he manages a staff of over 20 lawyers, interns and paralegals.
Calev serves as the Founder and Executive Director of ARISE - Alliance to Reinforce Israel's Security and Economy and serves as the Chairman of the Anti-
BDS
Commission of the Israel Association of Bi-National Chambers of Commerce. Calev personally hosts an annual business matchmaking summit connecting international business networks and chambers with the economy in Israel in collaboration with the
Ministry of Economy
, the
Ministry of Strategic Affairs
, the
Israel Export Institute
, the
Manufacturers Association of Israel
and the Israel Federation of bi-national Chambers of Commerce.
Calev is also the Deputy President of the International Association of Jewish Lawyers, an organization which strives to combat anti-Semitism and advance human rights everywhere, including the prevention of war crimes, the punishment of war criminals, the prohibition of weapons of mass destruction, and international cooperation based on the rule of law and the fair implementation of international covenants and conventions.