Yehuda Raveh | Founder, Managing Partner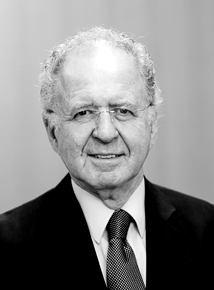 The founder and visionary of Yehuda Raveh & Co, Yehuda Raveh is a prominent Israeli commercial lawyer, regarded as a leading expert on public-private partnership projects (PPP, BOT, PFI), and real estate and financing transactions. Yehuda is co-founder of the Israel Infrastructure Fund (www.iif.co.il), the largest of its kind in Israel, which manages more than $1 billion in investments, and he currently serves as a principal of the fund. His expertise is likewise sought outside Israel as a member of the United Nations PPP Experts Group; in this capacity, Yehuda advises European governments on the legal and commercial issues related to building and financing infrastructure projects.
Yehuda lectures at Tel Aviv University on commercial law. He has served as Chairman of the Trustees of The College of Management Academic Studies (Rishon Letzion), and is currently serving as Chairman of the Israel-Canada Chamber of Commerce, honorary President of the Association of Israeli Friends of the Israel Museum, Deputy Chairman of the Public Committee of Yad Sarah, and others.
Education
Hebrew University of Jerusalem, LL.B.
New York University
Bar Admission
Israel
Languages
Hebrew, English